November Update & SSNats NOR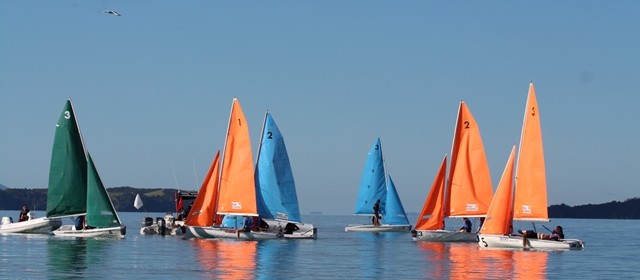 This year's Interdoms was a great success for all involved, with the NZ teams winning the Interdom Trophy. Adelaide's Westminster School was the top Open team and Napier Girls' High School the winning girls' team – for full results refer results tab.
The 2019 Interdoms will be held at Sandy Bay Sailing Club in Hobart in July (13-17).
The next Interdoms in New Zealand (2020) is also scheduled to be in the July holidays.
SSNats 2019 NOR – Final This document has a few changes to previous years, so please read carefully.
Note that we will be trialling providing protest and breakdown flags with the boats. To give a general idea as to how to use the protest flag the following may possibly be included in the Sailing Instructions "19.1 For protests by boats under D2.2, a red flag is conspicuously displayed when it is hoisted an arm's length up a shroud and it remains there until the protested boat takes a penalty or the umpires signal a decision.  The flag shall then be lowered to deck level at the first reasonable opportunity.  If a boat wishes to protest when the flag is already displayed it shall first be lowered to deck level and then displayed again."
The entry fee has had to be increased to $2300 and there is no travel discount for South Island teams.
Along with the entry form, the entry fee is also due by 8 April.  Failure to pay this by the due date may invalidate an entry.
It is also intended to run the annual team sailing umpires' course prior to Nationals – which starts on Easter Weekend – hope you have your accommodation booked!
At our recent AGM, it was suggested that organisers of regional events with 12 or more teams trial the Swiss League format. This could greatly help the difficult task of seeding for the Secondary Schools Nationals. However, this may take a while to fully organise. If anyone has worked closely with the system, please contact Rob Herries robertherries@gmail.com
We also encourage the regions to use our Nationals NOR and SIs as a template, with standard clauses being used. Jim Park will be happy to check these regional documents. jim.park@xtra.co.nz
Calendar 2018 – 19 (November 2018)
2018 Marlborough Colleges Sailing Club Report It would be great to hear from other regions. News, reports, links, etc can be forwarded for posting on the website.