New Design 420 Bow Pads Available
Hamish Hey has been working away on the bow pad idea and now has moulds to use a pourable urethane foam. It lowers the cost of manufacture significantly, so they are now $200 incl GST each.
420 Bow Protector for Teams Racing Flyer
The current inside profile mould fits the Extreme hull which are the majority of  the current fleet, but the pads will soon be available to fit almost every model of 420.
If you would like a quote prepared for a specific number of Bow Pads please don't hesitate to get in touch with Hamish, SkiffyMush@outlook.co.nz
There have also been strong enquiries for rudder blades and he will be making moulds for these over the Xmas period.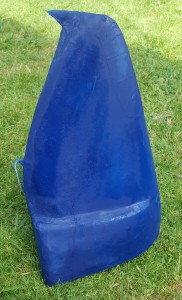 Initial costings are that these will retail for $354 incl GST.  The current provider is now charging $420.