Updated link for Nationals 2018 & Day 1 Report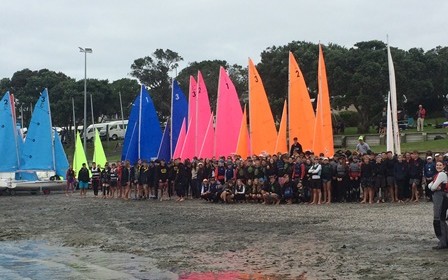 Monday 23 April – note new link for results http://www.starweb.co.nz/teamnz/page222.aspx
11.30am Day 2 – gold silver just going afloat.
Report from Day 1
Good winds with some stronger gusts saw all of the fleets reefed on Sunday, this decision did mean we got teams racing and not just survival and capsize practice.
Gold and Silver morning started slowly with all teams a little sedate and not pushing too hard,  however, the competition increased throughout the afternoon as teams got themselves into the swing of things. There was a lot more competitive sailing and people becoming very vocal.
At the end of the day Auckland Grammar is leading the charge with 9 wins.  Followed by 3 teams at 2nd equal being Christchurch, Marlborough, Westlake Boys.
 Gold and Silver achieved 100 race, but haven't fully completed RR1 yet, – just 10 races to complete.  Repechage teams from Gold will be Napier Boys, Nelson Boys and Wellington College and the top Silver aiming  to move up not yet confirmed.
Over on the Bronze course the skills improved steadily through the day. RR1 was completed (45 races) with Christs College, Cambridge and Christchurch Girls leading the way and pushing for their place in Silver Fleet.
Some bronze-silver repechage races have been sailed.