Tuesday's testing times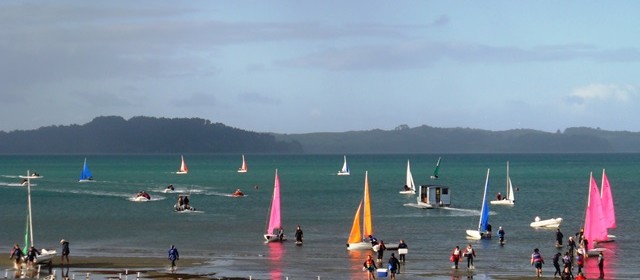 It was a windy day out on the water with gusts of 20+ knots stopping racing early around 11 am for a few hours. However, the organisers persevered and at about 1pm racing resumed. Gold/silver course managed to complete race 45 and Bronze fleet will start tomorrow with race 24.
In Bronze Fleet, it was all about Glendowie, displaying some class sailing, with Greg Hunter pulling off the play of the day, with a brilliant mark 3 trap, taking out 3 opposition boats and saving his team. Some strong winds caused some boats and sailors to go for an unwanted swim. The results are still very close with Glendowie and Kerikeri Girls tied on 4 race wins each, then Nelson Girls, St Cuths, Timaru and Whangarei Girls all tied on 3 race wins each with plenty to play for.
 Silver fleet has New Plymouth Girls tied in the lead winning all of their 4 races sailed today. The girls had a fantastic day on the water and cannot wait to get back out tomorrow. Dio, also, had 4 wins, but are still to sail against New Plymouth Girls – anything could happen. Like bronze fleet, silver was racing in some trying conditions, however, all seemed to be enjoying themselves.
 In Gold Fleet its almost anyone's game. Kerikeri Open hold the lead with 5 race wins today, with Kristin hot on their tail with 4 race wins. New Plymouth Boys, Napier Girls and Westlake Boys are all tied at 3. Play of the day in this fleet has to go to Lewis Anderson from Auckland Grammar, who was in 1st place, holding Napier Girls in 2,3,4 coming round mark 4 and through some upwind skilled sailing and good team communication, he managed to convert Grammar winning 1,2, 4. Plenty more sailing to come
 Keep an eye out on results at: http://teamnz.myblog.net.nz/page213.aspx
 Bring on day 4!
 Angus McK