Top of the South Summary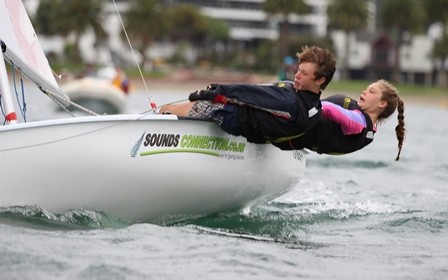 420 college Team sailing 'Top of the South' regional regatta at QCYC – Picton – 30 March to 1 April
A record number of college sailing teams competed in Picton Harbour last Thursday to Saturday. 14 teams from as far as Christchurch and Mt Aspiring competed in the Top of the South regionals and overall champion.  The local teams were represented by Marlborough Girls, Marlborough Boys and Queen Charlotte College. The last couple of years the title has been shifting from MBC to QCC.
Day 1
18 420 yachts were checked and all teams weighed in. Then it was a long wait as the wind did not fill in until the afternoon. Racing started around 1 pm. In each race 3 boats with 2 crew each sail against 3 boats from the other team on a short S- shaped course. By superb boat handling skills and tactics each team tries to force penalties on each other. The first boat finished gets 1 point, the second boat 2 point etc. Once all boats are finished the race, the overall score of the team counts, so any team score 10 or less – wins. After day 1 the majority of the races in the first round robin were completed. MBC and QCC showing their strength by not losing any races.
Day 2
The wind came up again late morning and the first round robin was completed with QCC coming out on top, only just ahead of Marlborough Boys, with Mt Aspiring not too far behind. The fleets were divided into gold and silver fleets and another Round Robin started.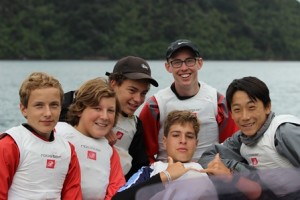 Day 3
The day started out with light patchy wind conditions. During the day wind strength increased and became gusty around the time the first round robins in the gold and silver fleets were completed. The silver fleet was send ashore, while the gold fleet completed the 2nd round robin with big smiles on their faces.
The regatta went well with only a few incidences. After the finish it was clean up, getting changed and off to the prize-giving dinner. This was quite a show with art and craft boatbuilding and members from the Motueka team singing a duet, showcasing one of Freddy Mercuries hits. The Marlborough Girls team made amazing progress during the course of the regatta, while both Marlborough Boys and Queen Charlotte Colleges performed well. They now have to take on some of the North Island big boys at Nationals like Kerikeri, Wentworth and Kristin. The Team Sailing Nationals are being held at Algies Bay on April 22-28.
Final Placings
Gold Fleet                                                         Silver Fleet
| | |
| --- | --- |
| 1. Marlborough Boys College | 1. Nayland College |
| 2. Queen Charlotte College | 2. Nelson College Girls |
| 3. Mt Aspiring College | 3. St Andrew's College |
| 4. Christchurch Boys High School | 4.Nelson College Boys 2` |
| 5. Nelson College Boys 1 | 5. Marlborough Girls college |
| 6. Waimea College | 6. Christ College |
| 7. Motueka High School | 7. Mt Aspiring/Otago Girls Combined |
Overall winner: Marlborough Boys College
Silver fleet winner: Nayland College
Top of the South Trophy (Marlborough v Nelson): Marlborough
Highest placed Nelson Team: Nelson Boys 1
Best Girls' team: Nelson Girls
 Christel Hopkins