Thanks from Wentworth College for Parua Bay Spring Regatta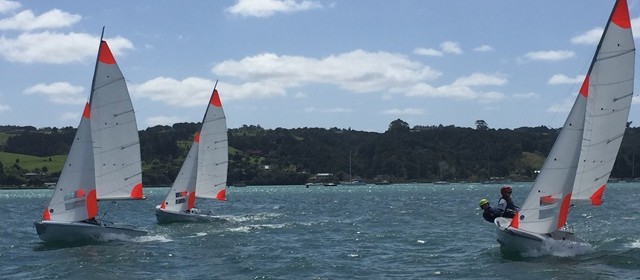 A couple of comments from parents who supported the Wentworth College sailors on & off the water.
The Parua Bay Regatta was a great opportunity for some of the younger Wentworth sailors to step up and take responsibility for their boats, and compete, without the assistance or direction of the older, more experienced sailors.
Most of the junior sailors have had a lot of experience fleet racing, so their boat handling was very good, the challenge was understanding the team racing aspect, and communicating with each other effectively on the water. This was pretty difficult for all of them to start with, but by the end of three days, they were making good tactical decisions of their own, and racing competently against much more experienced teams.
There was a big emphasis on the importance of looking after the boats and avoiding damage, and the students took this very seriously, returned them unscathed.
By the end of the regatta, the students were confidently competing against more experienced team sailors. They were also competent rigging and derigging their boats.
This was a pretty significant regatta for these junior sailors as they really had to take on a lot of responsibility and learn a lot in a short period of time. Their confidence and ability to manage the boats, and race effectively increased hugely over the regatta.
The bonus of this regatta, was the emphasis on teaching the students. Often when the sailors  had finished a race, a coach would come over and talk them through what they did well/ could do better. This immediate feedback was really valuable.
The on shore coaching was also extremely good, with workshops on rules, boat rigging, and sailing faster and they were also lucky enough to have a workshop with Olympian and round the world sailor Sharon Ferris-Choat. The regatta was quite relaxed as far as sailing regattas go, with an emphasis on teaching. The sailors from different schools enjoyed each other's company and developed friendships, with no animosity between teams.
This Parua Bay regatta was a huge success for the kids, and they got so much out of it.
Well done to the team at Whangarei Cruising Club the Sail Northland Charitable Trust.