Team Sailing Nationals Roundup
The Secondary Schools Team Sailing National Championships is all over and done for another year, with the regatta this year probably consisting of the most racing that we have ever managed at the event. The team of race officials managed to fire off 603 races over the regatta, a rate of over 100 races a day on average! We had a wide range of conditions, from light and shifty breezes to steady strong winds, so the teams that came out on top can be confident that they proved themselves to be the best in all wind conditions.
This years national champions and retaining the trophy for another year is Rangitoto College (Lucy Leith, Naiomi Ferrissey, Caleb Armit, Joe Leith, Seb Menzies, Alex Hebberd, Josh Ferrissey & Kayla Abbott) having sailed a superb series, losing only 3 races all regatta and sailing their last two round robins flawlessly. Second place went to Westlake Boys High (Brayden Hamilton, Lucas Day, George Rush, Cam McGlashen, Mason Mulcahy, Zach Fong, Ben Brighouse & Alex Norman) team on 31 wins, just one win ahead of Waimea College (Luis Schneider, Macgregor Jones, Alex Bentley, Sophia Sidley, Ruby Campbell & Sarah Charles) from the South Island on 30 wins.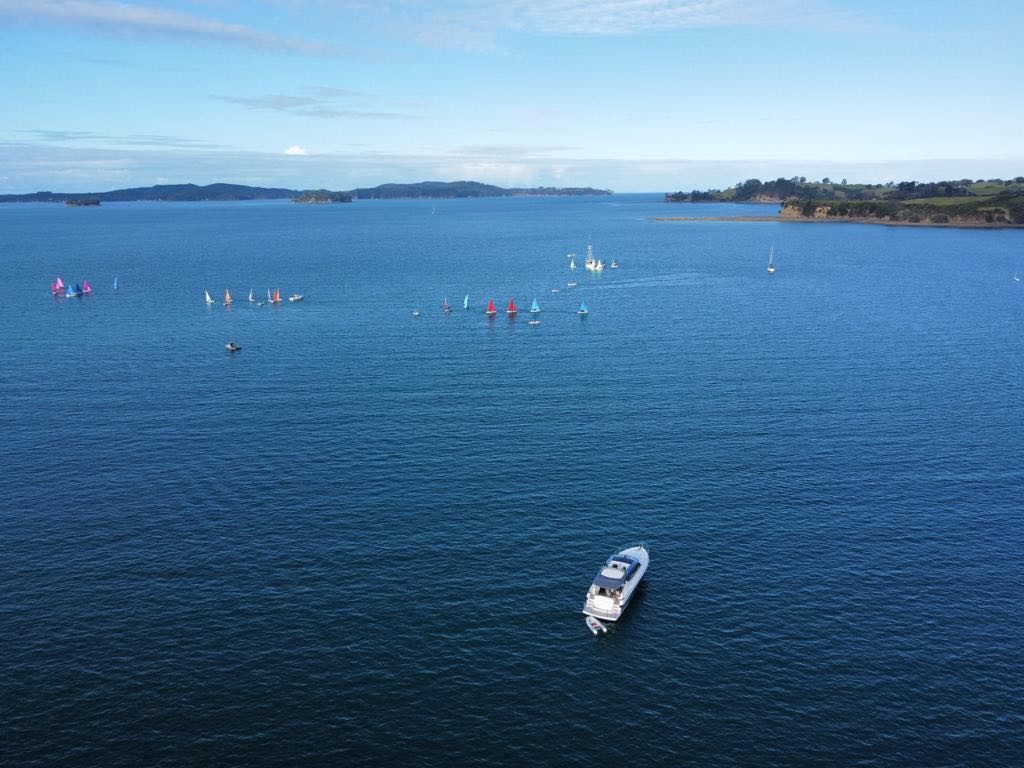 Our girls national champions this year are the Epsom Girls Grammar team (Amelia Angus, Nicola Hume, Grace Still, Sophia Morgan, Megan Hume & Jorja Marshall), after getting themselves up through the gold/silver repechage they sailed a consistent series to secure the top girls spot. They were followed by the Nelson Girls in 2nd and the Napier Girls in 3rd.
Winners of the Silver fleet were Wentworth College (Matthew Rist, Phoebe Andrew, Blake Wood, Caroline Gilpin, Jacob Pye, Maddie Rist, Jack Hollands & Sam Wild), closely followed by a promising young Queen Charlotte College team, who were then comfortably ahead of Nelson College in 3rd.
Taking home the Bronze fleet was New Plymouth Boys (Caleb Adlam, Reuben Kiss, Jack Parr, Alex Dunning, Ethan Lecher, Caleb Birrell, Finn Kennedy & Matthew Francis), who's impressive comeback after missing out on the repechage in RR1 (winning 8/9 for 4 rounds in a row) led to them pipping Tauhara to the trophy on the final day of racing. Tauhara had to settle for second place and Napier Girls took out third.
The results are just the cream on the top of a great week of racing though, at NZTSA we sincerely hope that all the teams that came along thoroughly enjoyed their weeks racing and came away from the regatta having learned some valuable lessons and an idea on how to improve their team sailing skills to ensure they can finish a few places higher next season!
Another huge thanks has to go out to the people that make regattas like this happen, namely regatta coordinator Ross Sutherland, Race Officers Viv Butcher & Richard Brown, chief umpire Rob Herries, the rest of our huge umpiring team (including those newly qualified this week) and all the rest of the race support that have traveled from all over New Zealand to help enable this fantastic regatta to happen.
We hope to see as many teams as possible returning next year to compete once again, and to see if anyone can stand in Rangitoto's way from doing a hat-trick of titles!