REGISTER NOW FOR 2017 TEAM SAILING UMPIRE SEMINAR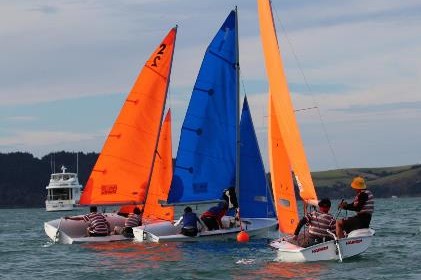 Do you want to become a qualified team sailing umpire? Is your umpire qualification in need of re-validation?
Registrations are open for April's Team Sailing Umpire Seminar at the Sandspit Yacht Club, Sandspit, being held on Friday 21st and Saturday 22nd April,9am-5pm, in the lead up to the National Secondary Schools Team Sailing Regatta.
This seminar is suitable for anybody with a basic understanding of the rules of team sailing. It also provides a great basis for umpiring at local events and attendance is a prerequisite for attaining club or national teams racing umpire qualification. An opportunity will be given to those who wish to sit the exam to gain club/national umpire teams racing status, with on-the-water practical assessments/evaluations occurring during the regatta.
The first day of the seminar will include basic umpiring techniques, communication between umpires and some rules including definitions, boat positioning, Appendix D to 2.2(c), umpiring practice in the classroom and some calls from the call book.
On day two, participants will consider umpire decision making, Appendix D2.2(d) to 5.3, rule 42, redress and damage, some umpiring issues, calls from the call book, regatta relationships, YNZ NU requirements and the format of the exam and on-water assessments.
Inexperienced umpires and certainly those who have not passed the exam to Club Level, should attend both days. Experienced umpires who wish to re-validate need attend day two only.
All seminar attendees are welcome to umpire during the week of the 2017 Secondary Schools Team Sailing National Championships.
Yachting New Zealand's race official seminars are proudly supported by HRG NZ.
For more information on this and other Yachting New Zealand race official seminars, contact Danika (09) 361 4028, danika@yachtingnz.org.nz
Cost: Free