Regatta Points RR1 & Day 2 Summary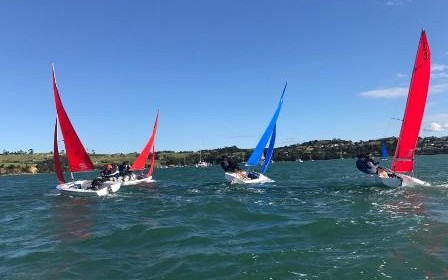 The weather request from yesterday was delivered today, with the sun coming out and heating up the spectators and sailors alike, this also brought perfect teams sailing conditions and all fleets got to race in great winds to ensure that their focus was on tactics as much as boat handling.
The morning started finishing off the Round Robin 1 series for the remaining fleets.  Repechages saw Napier Boys elevated to Gold Fleet, with Mt Aspiring College to Silver and Glendowie moving up to Silver Fleet at the expense of Waimea dropping to Bronze fleet.
Full regatta points at the end of Round Robin 1 are available on the website.
About a third of the way through Round Robin 2 sees Auckland Grammar, Kristin and Wentworth on three wins in Gold Fleet.  Wellington Combined and Whangarei Boys on four wins each in Silver Fleet and in the Bronze Fleet Whangarei Girls on five wins, with Waimea, New Plymouth Girls, Nelson Girls and Nelson Combined on four wins.
It is also great to see that all teams within their new fleets have achieved some wins.
It was mentioned that there was a noticeable improvement in starts today, with the "pre-race jitters" now out of the way, the sharp end of racing is beginning.
Competition is very strong across the board and all teams are continuing to improve on their performances from yesterday.  Racing is starting to show those who are fighting to get to the top of their fleets with lots of calling and enthusiasm being displayed on the race course, which certainly kept the umpires busy adjudicating the calls.  The junior umpires are gaining more confidence, with trying to achieve tight and consistent calls we expect to see even more of this over the coming days.
Generally, the comment has been that the sailors are continuing to show great sportsmanship and their behaviour is pleasing when difficult calls are made on and off the water with redresses/protests.
With more than 200 races sailed so far, the boat maintenance team have also been kept very busy today.  On the water repairs have been quick and have kept boats sailable and competitive.  Damage bonds have been stretched and a reminder to sailors to avoid collisions at all costs.
In the Bronze fleet, there are 15 teams with many new sailors participating for the first time.   They have experienced dramatic learning curves on the water over the past few days, where many rules are being learned from the sympathetic umpires and the more experienced crew members within their teams.  Bronze fleet is showing some promising and enthusiastic young sailors for the future.
Sailors all appear to be in great humour and we are sure that they are all looking forward to commemorating Anzac Day in the morning, with sailing not starting till after the sailor briefing at midday.