Rarotonga Winter Training Regatta

It is that time of year again – the NZTSA winter training regatta that takes place over the winter school holidays has rolled around again and we've had heaps of sailors escaping the wild weather of NZ wintertime for some Rarotonga sunshine.
In the past, the winter training camp has always taken advantage of the Sunburst dinghies that were on the NZ team sailing circuit years ago, but this year things are looking a little bit different… Our sailors have spent the week learning something completely new and have been blasting around the lagoon in the traditional Vaka boats that are perfectly designed for racing in Rarotonga.
This year the sailors have come everywhere from Kerikeri to Dunedin and have been lucky enough to have the lagoon to themselves for part of the week after the wild weather that has hit the Cook Islands the last few weeks. Racing the Vakas has provided the extra elements of not only getting the boats up on the plane, but having to keep a lookout for coral heads all the way around the race course too!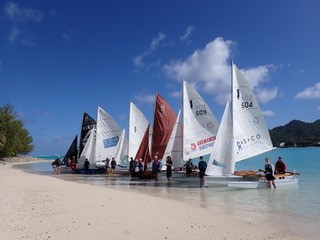 The training week of course would not be complete without the annual sailors hike up to the highest point on the island, well worth the view at the top when you get there.
As always this regatta is supported by Ross Sutherland and the Aremango Guest House which houses all of the sailors and parents that are out at the training camp, without which running an event like this wouldn't be possible.