Quiet day 3 on the water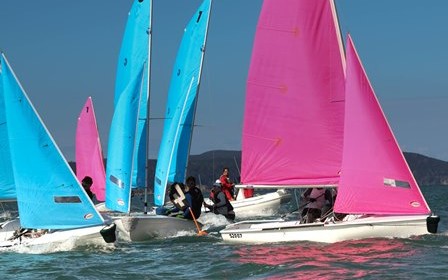 The wind gods did not provide anything to commemorate from a sailing perspective today.  While the weather provided a perfectly still and calm day for dawn services and Anzac Commemorations, we worked hard to get the few races away.
With races not commencing till after midday, today saw a gradual easing of the wind throughout the afternoon with a few races not finishing within the 15-minute time allowance.  These races had to be re-sailed. Even with the shortened course, the race officers sent us ashore around 3pm.
Today's conditions made for difficult sailing, with it being a lottery out there for the teams that managed to get a race away.  Sailors experienced plenty of frustration with the lack of wind, however, the lighter sailing teams would have found these conditions far more to their liking.
Today the Bronze fleet still managed to complete 13 races and Silver/Gold fleet 19 races.  Results to date can be viewed on the website.
Those listening in on Channel 77 will begin to get an appreciation of the incredibly challenging logistical job to keep the fleet of boats on the water and operational. Today we give a big shout out to the team of people who keep the huge fleet of boats on the water.
Let's all hope for better wind tomorrow.