Picton Training Regatta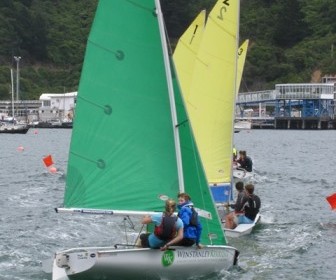 On the Tuesday the 10th of January, 22 young sailors took to the waters of Picton Harbour as part of a three day training clinic organised by Marlborough Colleges Sailing Club and lead by Head coach Zac Bromhead.
Day 1 provided perfect training conditions, a steady 15 knot northerly rarely heard of in the Marlborough Sounds allowing the three colleges, Marlborough Boys, Marlborough Girls and Queen Charlotte, to have a full 6 hours on the water. The morning session consisted of three drills which the teams rotated through, Rolling 3 minute starts, Upwind/Downwind mark 1 and 3 pass back practice and Reach/Dummy upwind mark 3 and 4 pass back practice. After a brief lunch break the morning practice was put to good use with continuous races between the three teams.
Day 2 saw another perfect day on the water, the morning session focussed on boat handling, tacking, gybing and 360's and starting. In the afternoon, all teams improved their starts and race management, especially calling switches, mark traps and pre-empting scenarios.
40 knots made training impossible on day 3, so a theory session was run in the morning which covered combinations, what is stable and what isn't, as well as how to convert, pre- race checks, pre-start, and race theory/course management. In the afternoon, a few keen sailors ventured out in plastimists, which made for very interesting racing in 40 knots, not one managed to stay dry, including the coach!
All in all, it was a very successful 3 days. Marlborough Girls improved a lot with boat handling and starts. Queen Charlotte and Marlborough Boys both said they improved, communication, time on distance, crew work, and mark 3.
All teams will be focussing on communication, decision-making, holding and gaining positions downwind and pre-empting situations, before the upcoming regionals.