Opens Report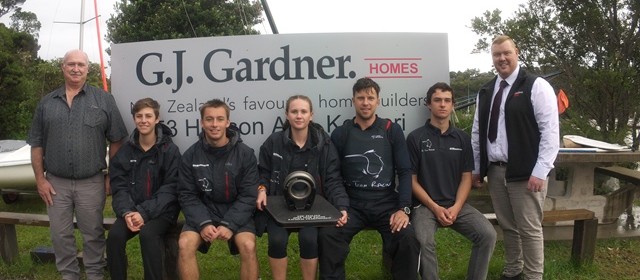 2018 G.J. Gardner Homes New Zealand Open Team Sailing National Championship in Kerikeri
After a ten-year absence on the NZ yachting calendar, the New Zealand Open Team Sailing National Championship is back!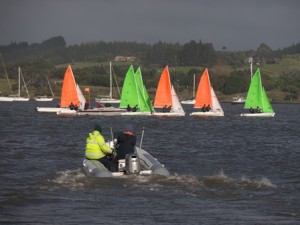 Northland's Queen's Birthday storm did not deter 10 teams from around NZ gathering at the Kerikeri Cruising Club to compete. Teams came from as far afield as Christchurch, Nelson, Auckland and closer to home Whangarei. Although, sailing did not begin until midday Sunday, the organisers ensured that a round robin of 45 races was completed by nightfall and Monday's racing saw semi-finals and finals completed and a round robin for the remaining teams, settled by early afternoon. This was thanks to the excellent team of on-water volunteers whose hard work ensured the smooth running of the racing. At the prize-giving, praise was given by these volunteers, to the competitors for their willingness to be "fast-paced between races, allowing the schedule to be completed as the stormy weather continuously threatened."
The winning team of Reuben Corbett, Ethan Manning-Harris, Frankie Dair, Maeve White, Shae Donahoe and Josh Berry took the regatta out with 8 wins from 9 races in the round robin,3 wins from 3 in the semis and 3 from 4 in the finals. However, these scores do not reflect how close the racing was or how tense it was for the supporters on the shore.
This team competed at the Wilson Trophy – British Open Team Racing Championship sailed out of the West Kirby Sailing Club. Each year the best teams from around the world enter this prestigious event. Kiwi Team Racing have benefited from this perfect lead-in for competing in our own national event.
RESULTS: 1st Kiwi Team Racing, 2nd Thievery, 3rd Team Elephants, 4th Reach Arounds, 5th MBSC B, 6th Mongoose Racing, 7th MBSC B, 8th Bow Downs, 9th Roofless Roundups, 10th Nelson.
This open event involved sailors from as young as 12 to as old as 30, sailing and competing together. Female sailors featured in all bar one team, making up 25% of the fleet, which is a growing trend and one we would like to continue.
A magnificent n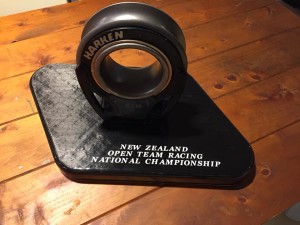 ew trophy has been donated to the event by General Manager of Core Builders Composites in Warkworth, Mark Turner. The Cap Shroud Sheave from "USA. 17" winner of the 2010 America's Cup mounted on composite, is an inspiring prize for 'up and coming' sailors.
G.J. Gardner Homes, New World Kerikeri and 88 Below have also contributed to the event's success. They are all to be thanked for their outstanding support.
Competitors Eric Thomas and Kayla Butler both said, "It is so good to have this competition up and running again! Everyone is enjoying being on the water and going hard out!"
The chief organizer Reuben Corbett, was thrilled with the turn out and support from volunteers for the inaugural event. Local sailing families provided excellent assistance and should be thanked for their contribution.
The general consensus by all involved was that next year's regatta can't come soon enough!