One Day Team Sailing Umpires' Course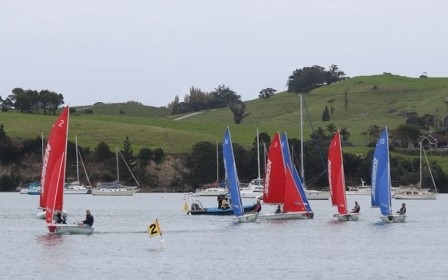 A one-day team sailing umpires' seminar is being held at Sandspit Yacht Club, Sandspit, Warkworth, on Sunday 25th September, immediately prior to the 2016 Pacific Rim Inter-Schools Team Sailing Championships (Interdoms).
This seminar was originally organised for a number of young people from the regions, to act as junior umpires at the event, to try and bring them up to speed, so they can go back home and encourage others.
However, it has now been opened to other prospective umpires.
In general, participants will be unable to sit the team sailing umpires' exam and be qualified. However, anyone who has attended a seminar in the last four years can sit the exam, to pass or pass to a higher level, with the validity of any new appointment being four years from the date of the seminar.
On the water assessments will not be available, so candidates must have the required experience, to enable complete certification.
People who fit the above criteria are invited to attend the one-day seminar, to give them a better chance and not sit the exam "cold".
As this is a Yachting New Zealand seminar, attendees are required to be members of a YNZ affiliated club.
Please complete the Umpires Seminar Application Form and email
to nztsasecretary@gmail.com by 16th September, if you are interested in sitting the exam or attending the seminar.