North of the Bridge Regionals 2015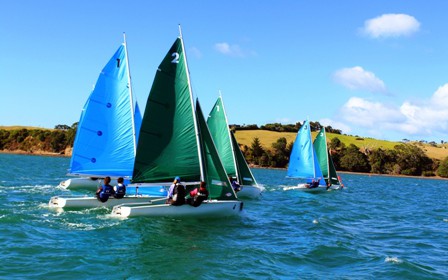 Report North of the Bridge Team Sailing Regatta 2015
Kerikeri has won the North of the Bridge Regionals after 2 days of sailing (a total of 130 races), followed by Westlake Boys High School, Kristin, Kerikeri 2, Wentworth and Rangitoto.
Westlake Girls won the silver fleet, ahead of Long Bay, Mahurangi, Whangarei and Keri Girls.
Points were close in some cases with a few tie breaks to be worked through.
Kristin, Rangi and Whangarei showed great improvement over the regatta. A little more teams tactics will see these teams move up the ladder at Nationals.
A big thank you to the superb start and finish boat personnel and the teams bringing ribs.
Many of the teams may not know that there was a Pan Pan call made as the marks were being retrieved at the end of day 1, with an ensuing rescue of 4 people from a sinking inflatable in Kawau Bay – well done lads. Special thanks also to ex Mahu sailing teacher Ross Walker relaying the call.
Results North of the Bridge 2015