Moving About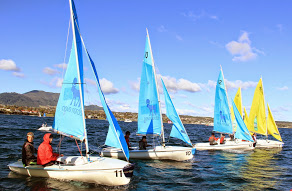 Day 4 sees the bronze fleet sailing in 8 sets of boats to help speed up the completion of their second round robin.
The gold/silver fleets, in 4 sets of boats, are completing their 2nd RR, then moving slowly into the next RR, following the repechage.
Thursday's breeze was much stronger than forecasted with race officials recording in excess of 20 knots before the fleets had left the beach, which resulted in an immediate delay for all fleets. This caused the eventual cancelling of racing for the bronze fleet. In an effort to get the gold and silver fleets racing, the race committee for A course headed over towards Two Mile Bay and set up a course which was much more sheltered. The teams sailing out were reefed and accompanied by umpires to ensure safety and minimise risk of capsizes. The gold and silver teams still ashore were driven around to the Two Mile Bay reserve, where they could watch the racing from the shore fifty metres away. Changeover capabilities were set up for the existing boat ramps, which worked very well, allowing teams to go ashore quickly between racing and keep the sailors much warmer. Racing got underway at 1100. The teams managed very well in the heavy conditions, with the lake whipping up some good swell for the sailors to contend with. There were minimal capsizes, and the teams seemed to enjoy some good speeds on the off wind legs. As the breeze lightened off this afternoon, the girls teams excelled. In particular New Plymouth Girls are now tied for first place in the second round robin of the silver fleet, with their brother school. Auckland Grammar and Westlake Boys both had particular good days, and have overtaken Kerikeri to be placed first and second respectively in the second round robin. We have six races to be sailed for the second round robins of gold and silver, before going to repecharge once complete. At the end of the day umpires were kept busy with 4 formal protests, 3 of which were dismissed and 1 to be decided tomorrow morning. The forecast for Friday is for northwest 10 knots rising to 15 knots in the afternoon and a high of 16 degrees, with some cloud increasing.