Light breeze at Algies, boats have gone afloat.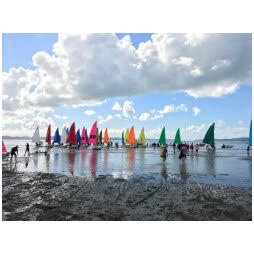 Wednesday's weather was an improvement on Tuesday, with a beautiful sunny day, however, the light wind conditions made for more challenging racing, as we struggled to get on the water until after midday.  The light wind conditions made it very technical and the teams who really know teams racing and understand mark traps really came to the fore.
45 races were achieved in Gold and Silver, with Bronze Fleet completing 50 races.  All three fleets have now completed Round Robin 2, including all the repechage races, which were completed by the end of the day.  Results from RR2 repechage were Waimea moving up to Silver at the expense of Mahurangi who will drop to Bronze.  A really tight, controlled and patient race played out against St Kentigerns and New Plymouth Boys fighting it out for the spot in Gold Fleet.  St Kents took it out in the last beat with an impressive finish.
We are close to 400 races that have now been completed over the past 3 ½ days, the scene is set for a great final two days.  Lets hope we can complete the 3rd Round Robin.  This will need fair winds and slick change overs.
Fair winds sailors.