Kerikeri Open Team Racing National Champs

The 5th annual G.J. Gardner Homes Open Team Racing national championships were hosted by the Kerikeri Cruising Club, racing in Doves Bay. 10 teams escaped the winter by making the trip up to the Bay of Islands hoping for some breeze and sun – competing for the trophy donated by Core Builders Composites in 2018.
Light and tricky breezes were the running theme of the opening two days, which made race officer Brian Trubovich's task of getting the round robin away extremely difficult indeed! But after two days and a handful of re-sails after some incidents the round robin was complete and we had our competitors for the final series.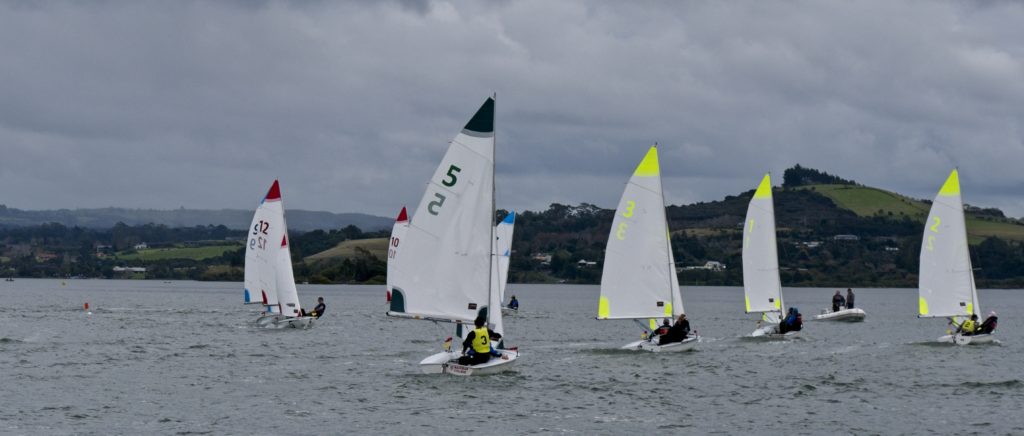 Day 3 started with a promising 6 knots of breeze and competitors were hoping for a successful day at the pointy end of the regatta, but by early afternoon all the breeze had packed up and both the final and the petit-final only finished one race apiece. However, there was a clear winner with Kiwi Team Racing retaining their title with an undefeated string of results over the regatta.
1st Place: Kiwi Team Racing (Liam Herbert, Maeve White, Sean Herbert, Imogen Herbert, Reuben Corbett & Grace Calnan)
2nd Place: RNZYS (Jordan Stevenson, Harry McMullen, Jack Bunce, Hugo McMullen, George Angus & Amelia Angus)
3rd Place: Thievery (Josh Edmonds, Celia Balemi, Harrison Carver, Courtney MacPherson, Erik Thomas & Kaitlyn Turner)
Following the regatta Chief Umpire Rob Herries claimed, "there hadn't been enough protests so the umpires will all have to come back for the next year!" and thanked all of the volunteers and the work done behind the scenes to make this weekend happen.
It was not an easy weekend to be a competitor or a volunteer, and the team of 30+ volunteers that helped make this weekend the success that it was all deserve a massive thank you from all the competing teams. As well as that – this weekend wouldn't be as successful as it has been without the continued support of G.J. Gardner Homes, Ferment & Countdown.