Hawke's Bay Team Sailing Champs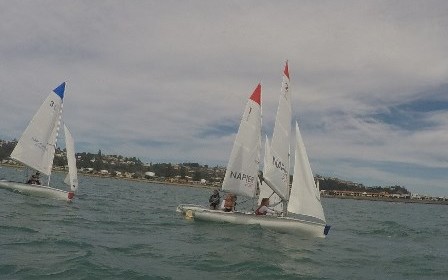 The Hawke's Bay region held the first HB Team Sailing Champs on Sunday 5th March.
Conditions were ideal, 6-8knots of easterly breeze.
Three schools provided a total of 3 teams (including one mixed team of Lindisfarne and Napier Boys). Sailing was competitive and close.
Results: Napier Boys' HS 1st place, Napier Girls' HS 2nd place, Napier Boys' / Lindisfarne mixed came 3rd.
This event was a valuable preparation for the up-coming Central North Island Champs.
Napier Girls' and Napier Boys' HS are taking 2 teams each to the CNI Champs in Taupo, 26-28 March. Lindisfarne will unfortunately not be able to have a team to Taupo.
Thanks go to event organiser Chris Devine, race officials: Andrew Kearney, Emma Steiner, Chris Devine, Mark Dixon, Rose and Adrian Mannering as well as umpires, Nigel Mannering, Philipp Otto and Jared Fritchely.  The on-shore support from Di Goodall and Rose Devine was also much appreciated.