Going hard before going home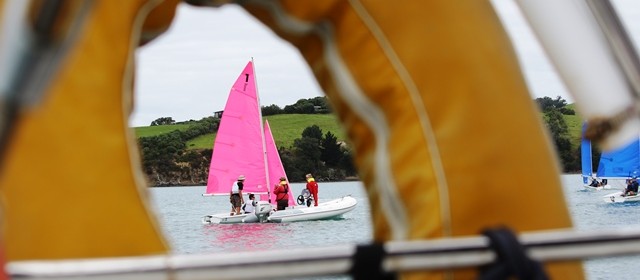 Remember detailed results at: http://teamnz.myblog.net.nz/page213.aspx
Day 5 again saw some tricky, light conditions with a cold southerly hitting the bay early in the morning. The race committee sent the sailors ashore early at 10am without starting a race. The sailors then hit the water again around 11:30am to finally commence racing.
In the all competitive bronze fleet Matt Wylie holds the clear play of the day in bronze fleet. Even though his team had a comfortable 1,2 lead, Wylie sitting in 2nd place decided the umpires were a little bored and decided to make the most of his position at mark 3 excruciating the perfect mark 3 trap scoring a penalty on Kerikeri Girls. If he hadn't already had enough fun, he decided to have another go at mark 4 again and like mark 3, he undertook the perfect mark 4 trap, holding the Kerikeri Girls away.
In silver fleet, Whangarei Boys would be my pick here, scoring 6 race wins out of their 6 races sailed. The boys have been working very hard all week and it's great to see them get some good results. In 2nd place its anyone's game, Dio, Cook Islands and Taupo are all locked up at 4 race wins a piece. With just over half the round robin completed in this fleet its almost anyone's game at this point, but if I were to make a pick at the overall podium finishes I'd have my eye on St Kent's, New Plymouth and either Dio or Whangarei Boys with an outside chance, but I could be completely wrong, as this fleet is extremely unpredictable, it'll be a busy day tomorrow.
In gold fleet, Wentworth were my pick of the day here, winning an outstanding 7 out of their 7 races sailed. A fantastic result considering some of the struggles they were going through in round robin 2. They hold a commanding lead going into the final day, with Kerikeri Open in 2nd place in round robin 3 with 5 race wins. Auckland Grammar got in on the action today with again a modest 4 race wins, however, they have sailed 1 race less than Wentworth. My pick for podiums in this fleet would have to be between Kerikeri Open, Wentworth, Kristin or Auckland Grammar. It'll be a close and interesting day 6 in this fleet. The race officer; Richard Brown, says it is in his best interests to complete round robin 3, however, he will always strive to make it a good and fair race for all competitors.
So, lots to play for across all 3 fleets tomorrow. Stay tuned to the Facebook page for all the updates with how day 6 will unfold, 'till then,
Angus McKenzie – Gold/ Silver Umpire.
Photos: Susanna & Gay