Day 5 & Counting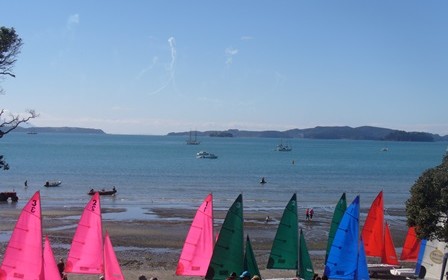 What a great day.  After a short delay the breeze filled in as predicted to get racing started.  Then exactly as forecast it shifted to require the resetting of the courses, but was then pretty much steady for the day.  This made for solid close racing on the course, but some were challenged by the slight chop.
Great sportsmanship was again mentioned particularly with the South Island teams who were doing their penalty turns (even before an umpire got to say anything!).  The comment was that this actually proved a good thing to do as it helped win the races.
Bronze fleet continued with their learning curve and saw umpires taking coaches and reserves out on the course to give them an "up close and personal" experience of what happens on the umpire boats.
As tactics develop, some teams are finding that they are getting perfect traps on their own team mates.  That can actually cause confusion for both parties and care needs to be taken to ensure that damage bond doesn't get a workout…..
Bronze Fleet completed 55 races in RR3 and Silver/Gold Fleet completed 64 races.  This sets us up well to complete the RR tomorrow.
One of the great features of this regatta is that every team is beatable, and no team can be underestimated, this applies across all of the fleets, you can check out the results in detail and see where you might be able to cause the upset on the final day.
One of the things that race officials really love is when sailors give them a wave and say thank you. Let's all make a special effort to do that tomorrow.