Central NI RR2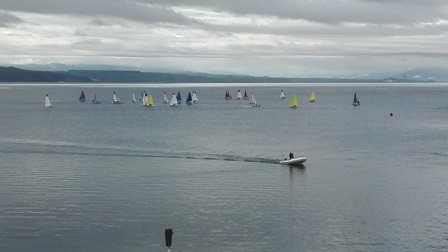 Despite a delayed start as weather and starter boxes were sorted, we started the day with the 4th pool position sail off between Napier Boys B and Napier Girls B to decide the final make up of the Gold and Silver Fleets.  Napier Boys B managed to hold off Napeir Girls B and claim the last spot in the Gold Fleet, with Napier Girls B completing the Silver Fleet.
We managed to finish the first round robin for the Gold/Silver Fleet even though the winds were lighter than on Day 1 and needed to make a call about further racing.  Once the decision was made to continue with Round 3 straight on the back of Round 2, our luck ran out and the threatened rain arrived, together with the associated loss of wind and so we only completed six races of the new round.
At the end of the day, it looks like local knowledge may be a secret weapon, with Tauhara leading Gold Fleet with 6 out of 6 wins, and Taupo Nui leading Silver, also with 6 wins out of 6.
Tomorrow
, weather permitting, we will continue with the last race of Round 2, which was delayed because of a boat being ashore for minor repairs, and then press on with Round 3.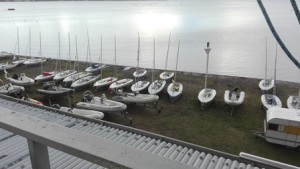 Report, photos & results from Joanna in the tower.