Abaco Christmas Regatta Day 3
Teams arrived for the third days racing to be met with a very light northerly breeze, after two days of great conditions this was going to be a very different test for the teams. After the morning briefing, the sailors started to make their way upwind to the course to get crack on with the final round robin.
The combined team of Nelson/Timaru/Takapuna had a flawless day, finishing the regatta on a high winning 5 out of 5 races after some really close racing on the final upwind legs. Whangarei Girls also saw a massive improvement, winning 4 races on the day in the light and shifty conditions.
Over the course of the regatta, the coaches have seen a massive improvement in all the teams' sailing and teams racing skills. A lot of the sailors looked more confident and were definitely trying more teams racing tactics over the course of the regatta – which is exactly what we want to get out of a regatta like this.
Overall, the Whangarei Boys team took top honour – finally losing their invincible record on the final day, finishing with 23 out of 25 wins. Nelson/Timaru/Takapuna followed in second place with 16 wins and third place went to the Whangarei Girls, sneaking ahead of Otago Girls with their impressive final day. Well done to all teams who attended, especially the ones who traveled so far to be here!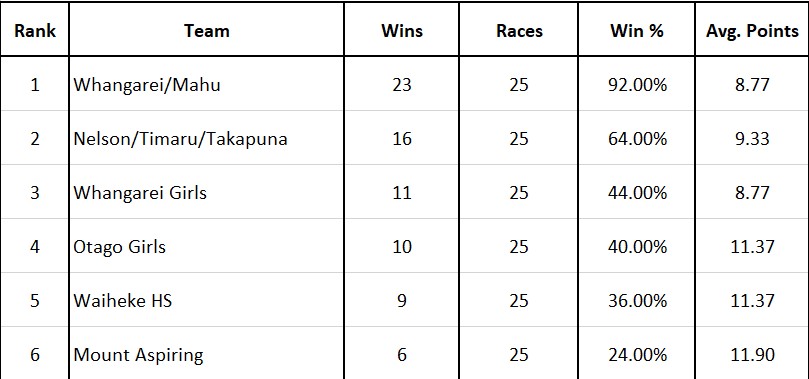 Stay tuned for more updates as we head into regatta season and looking forward to the next one!