2023 NZ Open Teams Racing National Championships Report
Thievery were the winners at this years edition of the Open Championships – this year at the new venue, being hosted at the Royal Akarana Yacht Club in Auckland.
Day 1 was a breezy affair with average winds of around 20 knots for most of the day. The race management team got through almost a full round robin despite some gear breakages which led to a short pause on shore, but after a one hour postponement for high winds the fleet relaunched and got stuck back into it.
Day 2 dawned and the fleet was rewarded for their hard work on Saturday with a full day of perfect conditions that meant the race team could get through almost 40 races to complete three full round robins. Okahu Bay had 8-12 knots for the full day which led to some super interesting umpiring and teams racing situations that kept our official team on their toes.
At the end of the round robin stage the overall results were as below:
1st: Thievery (16 wins)
2nd: Akarana Swim Club (13 wins)
3rd: RNZYS (12 wins)
4th: Spud Racing (10 wins)
5th: Whakatu Floater (6 wins)
6th: Ship Luck (3 wins)
7th: Wanaka (3 wins)
Day 3 broke with an extremely glassy bay and things didn't look too optimistic for racing, but after a couple of hours waiting around onshore, the teams involved in the repechage finals launched and hit the racecourse in a building south-easterly breeze of around 4-6 knots.
Both repechage semi-finals went the full distance in the best of three format- with Spud Racing beating Ship Luck 2-1 and Wanaka beating Whakatu Floater 2-1 in the other half of the draw. Spud Racing held their form and took out a 2-0 victory over Wanaka to secure their spot in the semi-finals, with Ship Luck squeezing out Whakatu Floater to lock in a 6th place finish in the play-off.
Thievery took on Spud Racing in the first semi-final of the championships and came away with a convincing 3-0 victory. The other semi-final was filled with a lot more drama – Akarana Swim Club went 2-0 ahead but the Zak Merton's team from RNZYS fought back hard to come back from the brink and progress, winning the next three races to take the semi-final 3-2.
The Grand Final was Thievery vs. RNZYS and Thievery continued their good form and came away with a scoreline that was not representative of how tight the racing in the final was. Thievery took the final 3-0 but all three races were hard fought from the first horn pretty much through to the finish line! In the third place play-off Spud proved they earned their spot taking a win away from Akarana, but couldn't win the final overall, with Akarana winning 3-1. Fatigue may have been a factor with this stage being Spud Racing's 30th race in three days of competition…
Prizegiving was held shortly after racing in the Akarana Eatery with the RAYC Commodore Jason Morgan, Craig White from NZOTR and David Hogg from NZTSA presenting the prizes to the winners while everyone enjoyed a refreshing drink after racing.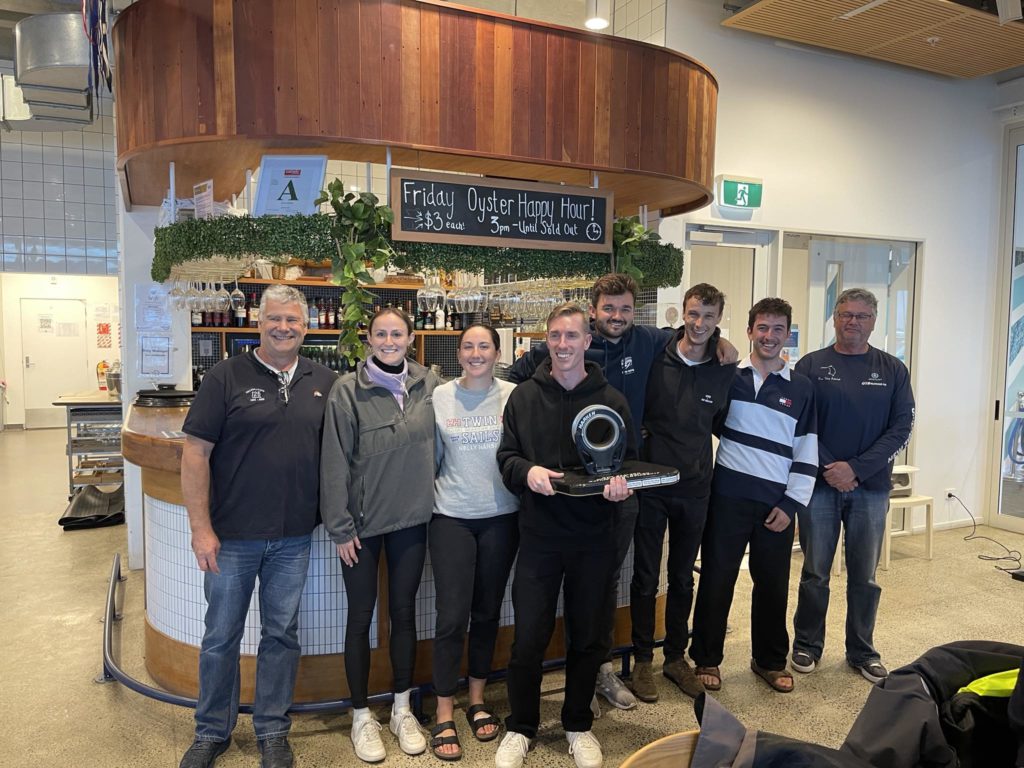 Overall Results:
1st: Thievery
2nd: RNZYS
3rd: Akarana Swim Club
4th: Spud Racing
5th: Wanaka
6th: Ship Luck
7th: Whakatu Floater